You can also use the keyboard shortcuts to control the player
Note: These shortcuts only works with our main server and external servers that support the standard.
Toggle play/pause the player
Toggle mute/Unmute video volume
Increase and decrease volume by 10%
Seek forward and backward by 5 seconds
Fast seek to x% of the video
Enter or exit fullscreen
Seek backward by 90 seconds
Seek forward by 90 seconds
Backward an episode
Forward an episode
Watch Movies/Series online on our new site
123Movies
and Watch Korean Drama online (K-Vid) on
KissAsian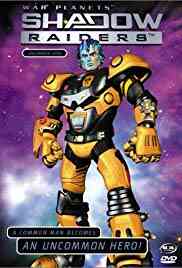 Shadow Raiders
Shadow Raiders
Shadow Raiders is set in a five-planet star system known as the Cluster. The four inhabited planets are in a constant state of war, always raiding one another for resources unique to each planet. However, when an alien named Tekla comes from another solar system, she brings a warning: the Beast Planet is coming. Now Graveheart, a humble miner of Planet Rock, must convince the leaders of Fire, Rock, Bone, and Ice to put aside their differences and stand together against the Beast, their new common enemy. The story begins as Tekla's homeworld of Planet Tek is consumed by the Beast Planet. She and her robotic companion, Voxx, escape to the Cluster through a Beast jump portal to warn them of the impending danger. Tekla is pursued by Beast drones and crash-lands on Planet Ice, where she is rescued by Graveheart. The drones subsequently attack and slaughter the combined forces of Rock and Ice in the area, leaving only Tekla, Graveheart, and Ice King Cryos. The threat convinces Cryos and Graveheart to form an alliance of the Cluster worlds against the Beast Planet. The first season revolves around the efforts of Graveheart, who has become the de facto leader of the Alliance, to convince the leaders of the other Cluster worlds to join the Alliance. The first planet they visit is his home planet, Planet Rock, but Lord Mantle stubbornly refuses to ally himself with the other worlds after Rock's Battle Moons repel a Beast attack. Graveheart's friend and captain of the Royal Guard, Jade, joins him to help rally planets Fire and Bone to his cause. Fire and Bone join the Alliance. The Beast forces are tracked to the dead world of Remora, converted into a fortress by the Beast drones. An attack by the combined forces of Ice, Fire, and Bone, with some timely intervention by Rock's Battle Moons, sees the destruction of Remora. However, this only serves to anger the Beast Planet, which emerges from within the Cluster's star and proves its superiority by destroying one of the Battle Moons with a single blast from halfway across the system. It then unleashes its wrath upon the nearest planet; Fire. The second season focuses on the Alliance's efforts to avoid the unstoppable Beast Planet. Each world in the Cluster is discovered to be equipped with "World Engines", massive drive systems which can propel the planets through space. Using these, the worlds of the Cluster flee the Beast; Fire's engine is damaged and the planet is thus sacrificed in a futile attempt to stop the Beast. Fire's population is moved to the remaining Battle Moons, now down to three following the battle to save Fire. On their journey, they discover Planet Sand, which joins the Alliance, and Planet Jungle, which the Alliance blows up when the Beast tries to consume it; this, too, proves useless. The plants of Jungle live on as a single cutting which is given to Emperor Femur of Bone. The finale introduces the Prison Planet, a teleport world used as a penal colony. Graveheart and Cryos are captured by a faction of convicts led by Jewelia, a devious woman who takes a liking to Graveheart. Femur and Jade are taken by a second faction commanded by Sternum, Femur's nobler brother, from whom Femur stole the throne of Planet Bone. Convinced that their friends have been slain by the other faction, the two pairs join the fight on the side of their respective faction until the truth is revealed. Meanwhile, Lord Mantle takes control of the Alliance by force, convinced that his forces are superior to the Beast. His arrogance nearly dooms the Alliance and costs Mantle his life when Blokk invades Rock and kills him in single combat. As the Beast Planet is about to consume Planet Rock, the Prison Planet teleports into its path. Graveheart and his group use Sternum's Telepod to travel to Rock. Sternum then teleports the Prison Planet out of the system, taking the Beast Planet with it. A final battle between Graveheart and Blokk results in Blokk's demise, Jade's rise to ruler of Planet Rock, and the Alliance's new era of peace. However, the story ends with a scene in a distant part of the galaxy, moments before the destruction of Planet Reptizar at the hands of the Beast Planet. Although the show ended after its second season, a proposed third would have answered major questions, like the origin of the Beast Planet.
Episode your are watching right now anime online of Shadow Raiders Ep
008
.
Next episode to watch anime online of Shadow Raiders is
009
.
Previous episode of Anime you are watching online of Show Shadow Raiders is
007
.
Comment
Anime
Episode

008
Rules
Flagging

- If you see anyone violating the rules, please use the report button ("mark as inappropriate"). Disliking an opinion is not a valid reason for flagging.

Spoilers

- Do not post them! It doesn't matter if someone asked for them, or not - it will still result in a warning and/or a ban. Comments containing intentional and unprovoked spoilers (posts like "X is the Beast Titan" "X is Y's brother") that are clearly not theories or guesses will result in an instant ban.

- Pointless text/text that can be identifiable as spoliers such as "Everyone dies" or "Han shot first!" is not allowed. We are not Meme Central nor do we want to be.

- If you want to discuss future episodes, we have a channel dedicated to spoilers on our Discord.

Stay On Topic!

- One way or another, keep comments related to the anime at hand or about 123anime in general.

Flaming / Swearing

- While swearing is allowed (unless really excessive), do not direct it at other users. In any way, do not start or participate in any flame wars. Flag comments violating this rule and we will deal with them accordingly.

Self-Promoting / Advertising

- While it is okay to mention other anime/manga websites, do not deliberately advertise them.

- These types of Youtube videos will not be tolerated:

Non anime related

"Anime Rant" videos will be removed since we have no way of confirm whether it's for self-promoting or no.

- Also, comments are not an advertising board!

Comments containing just links with no text will usually be removed, unless they're an answer to another comment.

Any links leading to viruses/phishing sites/etc are forbidden.

NSFW

- NSFW images are restricted for NSFW anime. If the anime you are on is not NSFW, then NSFW is not allowed. NSFW in this case, refers to ecchi. No hentai is allowed in any case.

Profile Pictures

- Comments made by users with NSFW profile pictures may be removed, depending on the contents of the picture. Slight ecchi/fanservice is allowed but hentai is not.

Posting Pictures

- Limit comments to a maximum of 3 images or less.

- Memes are allowed to the extent of:

They are on-topic and relevant(Anime related).
They do not spoil anything in the current or future episodes.
They do not contain questionable content (ex: Hentai)

Most Importantly: Use Common Sense!

- If you think you'll get in trouble for what you're about to do, don't do it.

Moderation

- A moderator's verdict is final and arguing with them will only cause further punishment.